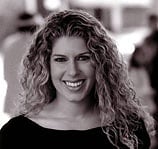 BIO

Information

Voice acting roles

Gallery

Stat
Type: Voice Actor
Given name:
Family name:
Birthday:Unknown
Website: http://
Description
Amy Palant (born 1979) is an American voice actress and singer. Her most famous role is that of Miles "Tails" Prower in the English version of Sonic X and, from 2005 to 2010, the video games of the franchise.
Palant studied voice acting at Edge Studio, under founder David Goldberg. She continues to work with the studio as a performer and a voice coach.
As a singer, Palant has performed with numerous bands, and was a founding member of the New York-based Alternate Folk band Bombshell, formed in 2005. She left the band in 2006.
(Source: Wikipedia)
| | |
| --- | --- |
| Screen Name | - |
| Real Name | - |
| Type | - |
| Voice Actor Tone | - |
| Gender | - |
| Given name | - |
| Family name | - |
| Birthday | - |
| Website | - |
| Hometown | - |
| Blood type | - |
| Hobbies | - |
| English Skill & abilities | - |
Edit post
Score Distribution
Like : 0
Dislike : 0
Page view : 1